All dog owners experience frustration at times, and it's only natural to think of re-homing your dog when things feel out of control. During the two year span considered to be the height of the COVID pandemic, dogs were adopted at an historic rate. Flash forward twelve to twenty-four months later, and shelters are full, and many have frozen the ability for new intakes. People are seeking to re-home their dogs at alarming rates. Let's look at why.
Lifestyles changed during the peak of COVID. Families were home. Parents worked remotely. Children went to school remotely. A new dog brought cheer and distraction during a time of great fear and insecurity. Dogs were not left for large periods of time because, simply put, no one was going anywhere except for occasional errands. There was almost always someone home who could attend to the dog. Now, the children are back at school; parents are back in the office; and many found career changes as a result of how one works since COVID. Those who adopted a dog during COVID are now finding they must plan time out of the house around the needs of the dog.
Dogs brought into our homes during COVID did not have the same level of socialization that dogs had adopted prior to the pandemic. We weren't having visitors; sales reps weren't coming to the door; and even holidays were limited to household members. Our new furry family members experienced adolescence without the usual array of kids' friends, repairmen, and houseguests parading through the home. Dogs developed a security based upon the same people in the same environment. Now, post COVID restrictions, there is a different flow to the house with people, sounds, and smells. This makes a dog very anxious, aggressive, and unpredictable.
Dogs adopted during COVID also did not get the chance to socialize with other dogs. Pet resorts that provided doggie daycare were closed for periods of time, and families who had someone working from home did not have a need for doggie daycare. Also, incomes dropped – so discretionary spending dropped. No one was going to dog parks, and people walking their dogs tended to do so on opposite sides of the street because humans did not risk being around another. Thus, dogs didn't get to experience other dogs.
All this translates to a dog who is now anxious, confused, and probably aggressive because as humans return to their "normal," dogs are having to adjust too something they view as totally different. It's not even a crossroads. It's two sets of tracks in the opposite direction.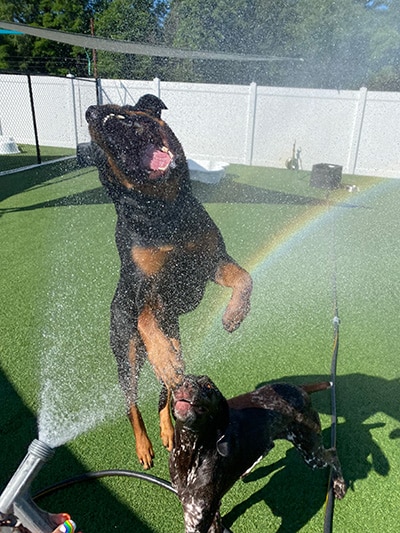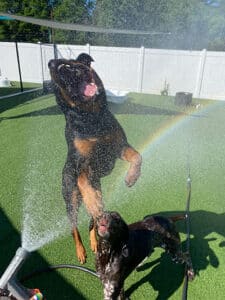 There is hope though. Before you try and rehome your dog, we suggest formal training to which will provide your dog with a sense of routine and security. This could radically change your dog's overall behavior making your and your dog's life the dream you envisioned when adopting. I encourage you to discuss training with one of our pet specialists or reach out to me. I am only a bark away.
Carolyn
Carolyn Lapps is the General Manager at Fetch Family Pet Resort. Her love and passion for all animals began at a young age and has led to a career. She is frequently consulted on pet socialization, family integration issues, and is highly regarded for her experience with domestic animal management and care.