Pets are Family at

Fetch Family Pet Resort
Fetch Family Pet Resort was created so South Jersey pet parents have a safe, healthy, and comfortable pet care option we'd want for our own fur babies. Pets are precious family members who deserve the best when away from home. Our facility was built around this philosophy, and we are confident you and your pets will agree. We are located in Washington Township/Sewell, NJ.
What makes Fetch Family Pet Resort so fetching?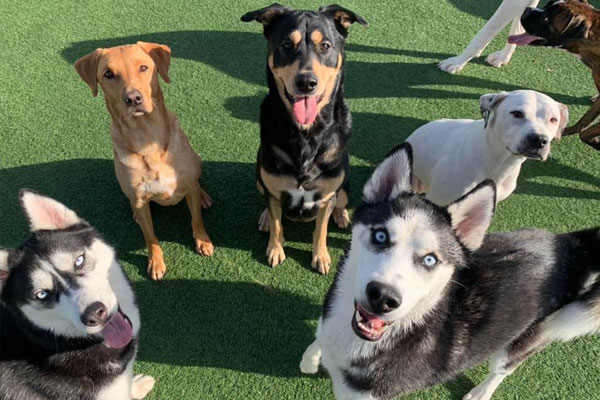 We are staffed by passionate team members, and their dedication to your pets doesn't go down with the sun; we're here 24/7.
Our award-winning facility features custom-built pet suites and penthouses that provide maximum comfort.
Sophisticated cleaning, air filtration, and security systems keep our facility as healthy and safe as possible. Regular room visits from our staff ensure all pets are happy and healthy day in and day out.
Our 16,000 sq. ft. outdoor play area designed with pet grade turf makes Fetch one of the largest dog daycares in South Jersey.

We have a custom-made doggie splash pad shaped like a bone. Pups love to have fun playing and splashing the cool, clean water.

In addition to our outdoor play yards, we have 4 large indoor playrooms used for play time as well as rest time, so we can have fun rain or shine!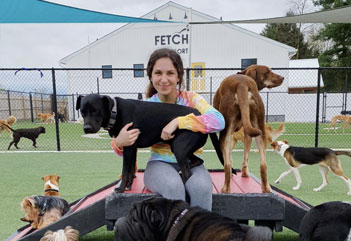 Lily is the Daycare and Boarding Manager of Fetch Family Pet Resort and came on board prior to our opening as part of our strategic team. With half a decade of animal care experience, her development of many policies and procedures has been instrumental to our efficiency, safety, and ultimate cleanliness. Lily works daily with dog integration, canine group management, and animal care to ensure a happy and secure play environment. She has experience as a professional dog bather and a canine training apprentice. With over 15 years of experience handling equines through training, care, and competition- she is well versed in animals of all sizes! Constantly hungry for animal knowledge, she has attended seminars on canine/feline boarding to provide the best care possible for our furry friends. In her free time, she tends to her animals which include a Golden Retriever named Gypsy and her horse, Cricket. From a young age animals have been her passion, therefore being a part of the Fetch Family is quite literally her dream career!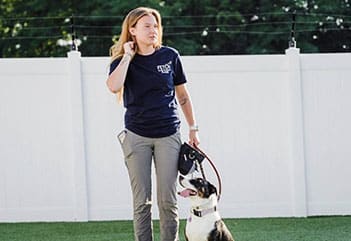 Alyssa is an Assistant Manager at Fetch Family Pet Resort and is involved in all aspects of dog integration, play activities, and group care. Prior to working at Fetch, Alyssa owned a small pet sitting business and worked with farm animals and rescue dogs. She trained her first dog when she was only eight years old. At nineteen, Alyssa helped her foster dog deliver a litter of eleven pups and tube fed one every two hours for a week. At home, Alyssa has four dogs, Harper, Lilo, Thea, and Stitch who keep her quite busy. Her favorite place to vacation is Disney World, and enjoys Broadway shows and training dogs (of course)! She says, "My favorite part about working at Fetch is creating bonds with all the furry friends who come to visit, but I especially like the challenge of building trust in nervous dogs. They need us most!"
Jackie is a Reservation Specialist at Fetch Family Pet Resort and is one of the great "voices" you hear at Fetch. She came to us in the summer of 2021, and prior to that worked as a medical assistant for almost two decades. Jackie and her partner have two dogs, Nugget and Buddy, and one cat named Saturday. They call their pets "hand-me-downs" because they came from other people when needing to be re-homed. Jackie grew up with pets having birds, Guinea pigs, cats, and dogs. Her favorite places to spend free time are the shore, Bermuda, and her craft room where she creates everything from unique clothing apparel to tumblers and including some of the more unusual Fetch branded items. She says, "At Fetch, I get to spend my work day with dogs in my office. I like to think it's soothing for all of us!"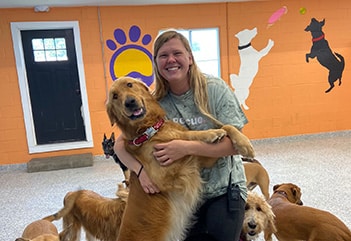 Amanda is a Senior Attendant at Fetch Family Pet Resort and is involved in all aspects of dog integration, play activities, and group care. A graduate of Stockton University with a bachelor's in biology, Amanda brought prior experience from having worked at the PetSmart Hotel.  She has one dog at home named Roxy and grew up with dogs, hamsters, birds, and fish. Amanda keeps a US Photo map at home and is slowly knocking out visits to all the States. A nature lover at heart, she likes hiking and wood burning (Pyrography). Amanda says the best things about working at Fetch are, "It's like working with an extended family with everyone helping each other, and of course, the absolute best are Mike McIntyre's jokes. I keep pushing him to try stand up at the clubs."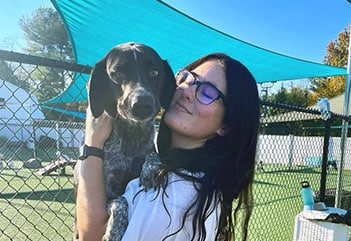 Gianna is a Pet Care Specialist at Fetch Family Pet Resort and is involved in all aspects of dog integration, play activities, and group care. She graduated from Rutgers University Camden with a Bachelor's Degree in Criminal Justice, and is not married. Her "children" consist of two cats and three dogs. Prior to coming to Fetch, Gianna worked in pet retail and at another daycare and boarding facility. She loves to hike in the mountains and especially in Washington State. Gianna loves Siberia Huskies. As a toddler she had one, but he had to be re-homed when the family downsized to a smaller home. Flash forward to present, and it's no surprise that her three dogs are Huskies. She says, "Huskies have always been my favorite breed as they have the biggest personalities. They are extremely intelligent which makes them very independent, stubborn, and vocal – just like me!"