Enrichment Style

Dog Daycare
What is Enrichment Style Dog Daycare? This specialized daycare program is planned and developed to create a healthy balance between the physical and mental needs of your pet. It is the ideal place for dogs to exercise, socialize, and have lots of fun. Between our four spacious outdoor play yards, our climate-controlled playrooms, and attentive staff, our daycare visitors enjoy all-day play while you're away. Go about your work, travel, or errands knowing your furry best friend is having a great time in a safe place rather than home alone or getting into mischief. By the end of your day, you'll have a satisfied pup ready to relax with you at home.
Dog Daycare Hours
Monday - Friday: 6:30am - 7:00pm
Saturday: 8:00am - 6:00pm
Sunday: Closed for daycare
Ready for Fun? Schedule A Daycare Reservation Now!
Our Dog Daycare program is the ideal place for dogs to exercise, socialize, and have lots of fun.
Fetch Family Pet Resort's dog daycare program was designed around canine happiness and safety. Here are some of the reasons pet parents choose Fetch Family Pet Resort for their dog's day out: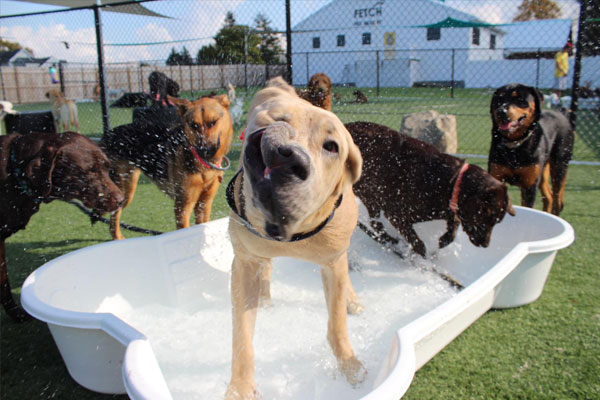 Securely fenced outdoor play yards are all covered with pet grade dog turf. Exciting play equipment and plenty of toys are just some of the reasons for wagging tails.
Clean and spacious indoor playrooms to keep the fun going no matter what.
Dogs love playing in our custom-built, bone-shaped doggie splash pad!
All playgroups are supervised by highly trained daycare staff, 100% of the time!
Advanced cleaning and air filtration systems keep our entire facility fresh and clean day in and day out.
State-of-the-art facility equipped with sophisticated safety and wellness systems, including year-round climate control.
Relaxing breaks between playtimes provided for every dog.
Because we're open 24/7, we offer flexible daycare drop-off and pick-up hours for any busy schedule.
We function as an enrichment style daycare for the physical and mental well being of all dogs that enter our program.
Ready for Fun? Schedule A Daycare Reservation Now!
Our Dog Daycare program is the ideal place for dogs to exercise, socialize, and have lots of fun.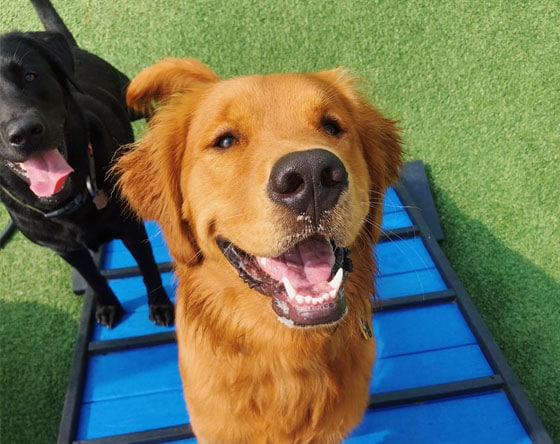 Is dog daycare at

Fetch Family Pet Resort

a safe place?
You bet your tail it is! Our facility and care are specially equipped to provide the safest and most rewarding play day for your pups. Enjoy better peace of mind knowing that:
All staff members at Fetch Family Pet Resort are trained in canine behavior and group play practices, with ongoing training provided.
Our facility features perimeter-wide fencing, 24/7 security, and total supervision of all daycare areas and playgroups.
Playgroups are chosen based on size, age, and playstyle, so your dog will make friends with similar playmates.
All new daycare guests undergo a temperament evaluation to ensure their comfort level with our social daycare program.
Benefits of

Enrichment Style Dog Daycare
In our Enrichment Style Dog Daycare program, your dog will enjoy exciting sessions of supervised indoor/outdoor play mixed with group games & activities with regular rest periods to maintain focus and rest. Not only is dog daycare the most fun place for dogs, it also provides valuable benefits to your dog's overall health and wellbeing.
Exercise. Busy pet parents don't always have the time to make sure their dog gets the exercise they truly need to stay healthy. For many breeds, this means more than a walk around the block. By dropping their dog off at daycare, pet parents can rest easy knowing their dog is getting a full day of play and exercise while they go about their business.
Mental engagement. Have you ever come home to find chewed shoes? Ruined furniture? Complaints from neighbors about the barking dog? These are common signs of boredom and loneliness. A busy mind is a happy mind, and dogs are likely to act out when left alone. Enrichment style dog daycare is a constructive and healthy place to redirect your pet's energy into positive play while engaging their minds.
Socialization. Most dogs naturally crave the company of their fellow canines, but socialization is a learned skill. By interacting with other pups in a safe and supervised place, our daycare guests are regularly exercising their social skills and gaining new manners and stronger self-confidence.
Safer than other options. Dog daycare is especially designed to be a safe and fun place for dogs. You have to worry about unvaccinated pets or aggressive dogs at the dog park. Trust your dog with staff that you can depend on for reliability and proper care. Fetch Family Pet Resort goes above and beyond to provide the healthiest and safest place for dogs to do what they do best—have fun.