We are not accepting any New Dog Training Clients at This time
Our Dog Training Program will resume at a later date. Thanks for your patience.
Professional Dog Training

in Sewell, NJ
At Fetch, we prioritize the relationship between pet and parent. It is a confidence bond that can be solidified with customized dog training based on positive reinforcement techniques.
Our programs appeal to your dog's natural canine senses and increase safety in all aspects of pet ownership. Our Director of Training is a nationally recognized expert who has worked on Federal, State, and municipal levels and and has successfully trained canines for more than fifteen years.
Learn more about our Dog Training Philosophy.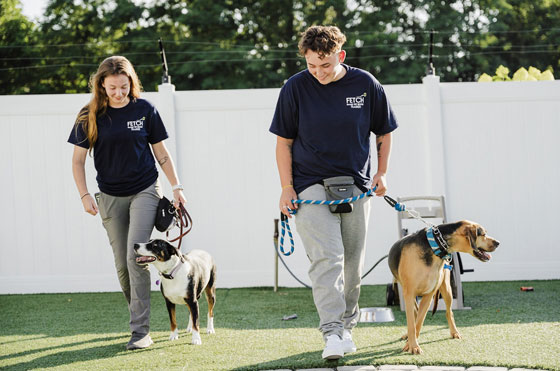 Dog Training Programs


Customized for You and Your Pet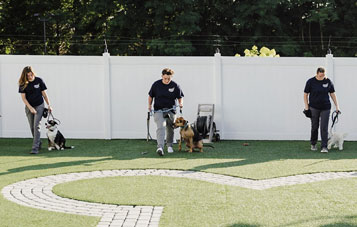 Group


Dog Training Program
Dogs love our group training program where we teach basic obedience and good manners with humans and other dogs. This a positive training experience which reinforces good behavior and teaches pet and parent control techniques in a variety of situations.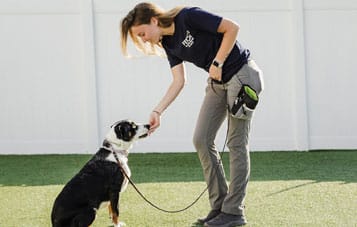 Private


Dog Training Program
This is the ideal option for parents looking to improve and solidify the bond between pet and owner. Customized to your pets needs, and based on positive reinforcement techniques, this program will be life changing for those finding challenges with pet ownership.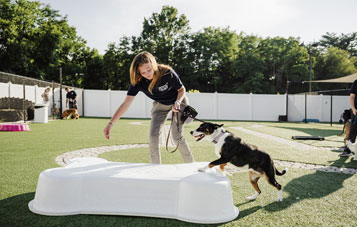 Dog Daycare


Dog Training Program
Dogs coming to daycare already love play and socialization, but manners and good behavior may need a little polishing. Our Daycare Training program is also convenient for those owners with tight schedules. Our trainers use positive reinforcement techniques to introduce your pet to a variety of commands and skills, and we even provide 'homework' to reinforce those lessons learned.
Benefits of Dog Training

at Fetch Family Pet Resort
Customized programs to meet a variety of needs and schedules.

Nationally recognized Director of Training with over 15 years of experience.

Safer for your dog.

Safer for your home.

Safer for you and your dog when out in public.

Establishes a confidence bond between you and your dog.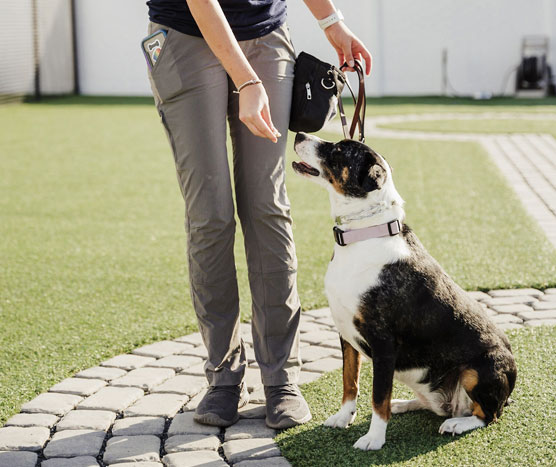 Reviews

from Some of our Clients
We adopted our dog during COVID, and things weren't working out. We were ready to give up. The trainers at Fetch got us back on track. Thank you!
Sara S.
Our dog seemed to develop bad behaviors as he got older. Fetch showed us how to correct his habits, and our whole family is happier as a result.
Colin W.
Our puppy was wild and crazy from day one. Thank you Fetch for taking our crazy one and turning him into a prince. Life changing!
Melanie T.
My biggest fear was what our dog would do every time the doorbell rang. He would bark like he owned the place. Now he knows where to go and how to behave when the doorbell rings. That's all thanks to the Fetch trainers.
Wendy M.
My dog likes to chase cars and chase other dogs. It got to the point where taking him for a walk put us both at risk. Fetch trainers worked with him (and me), and now we are both safer. Appreciate it Fetch!
Stephen B.
Positive reinforcement involves rewarding your dog for the things they do right. The reward could be a toy, their favorite treat, or something that is high value to them mixed in with positive language given in a loving and happy tone of voice.