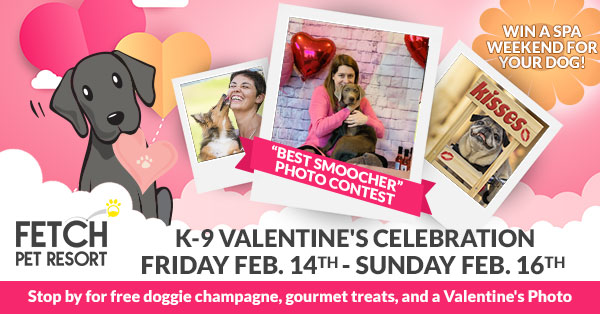 Smooch Your Pooch Party and Contest!
Party weekend: February Friday 14th - Sunday 16th
"Best Smoocher" Photo Contest - Stop by Fetch Pet Resort to take your Valentine's Day photo or submit your photo on our Facebook page!
Each pet will enjoy: Doggie champagne, gourmet treats, paw print Valentines, and can take a Valentine's Day photo!
Donations can be made at Fetch to benefit charity
Monday to Friday: 6:30am - 7:00pm
Saturday: 8:00am - 4:00pm
Sunday: 10:00am - 4:00pm
Holiday Hours:
Unlike other pet care options, come rain or shine, 365 days a year, we always have staff here caring for our furry guests in our state-of-the-art, secure facility. However, during select holidays we give our front desk staff well-deserved time off to be with their families.
Fetch Pet Resort is conveniently located in Washington Township at 284 Delsea Drive, Sewell, NJ.  Please give us a call for directions.